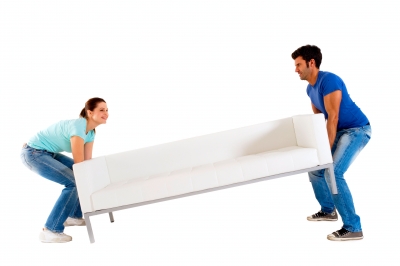 According to Naples Florida Weekly, around 200,000 people will move in and around the Naples, Florida area over the next seven years. Will your family be one of them?
Without a doubt, moving can present one of the most organizational challenges of a lifetime. Most of us can admit that we never know just how much stuff we have until we have to move it.  Getting organized before the move will help avoid taking old clutter into our new place.
Here are four ways to ensure that your next move will be smooth:
1) Purge before packing
Before you put those dishes/clothes/books in a box, ask yourself, "When is the last time I used this?"  If you can't remember, chances are you don't need it.  Consider setting it aside to offer to your friends who are helping you move first, before selling or donating it.
2) Put all of your essentials in one bag
When moving, our minds are pulled in a thousand different directions.  It so easy to forget where we put our medicine, soap, and toothbrush.  It's no fun trying to look for these things after a long day of moving.  Pack a bag containing all of your essentials, and you'll have no problem finding them when you're exhausted and just want to crawl into bed.
3) Clear plastic bins are life saver
Which is easier, looking at 10 boxes that say 'kitchen,' or being able to see the box that contains the plates?  Save time by using clear plastic bins for items that you'll need right away.  You'll to be able to find them quickly and get the new room set up quicker.
4) Clean your old home after the move and your new home before the move
This is important especially if you're renting your old home.  You don't want to be charged for leaving the place messy.  You'll really appreciate having a clean new home, especially the bathrooms and kitchen,  when you're tired out from a day of moving and just want to eat something, take a shower, and go to bed.
Moving can be difficult and a stressful experience, especially if you're doing it by yourself. Considering hiring a professional organizer who specializes in move management to help you reduce stress and organize all of key players.
Move managers can recommend moving companies and house cleaners, eliminating the need for you to worry about every little detail.  They can also help with organizing, packing, and purging, so that your new place will be relaxing and inviting. All you'll need to worry about is getting the key to your new home!